School Kitchens
t: 01242 663 000 e: [email protected]
"I think it's great that it has completely taken away the congestion in the main dining hall."
Lucy Horsman, Kitchen Manager at Oasis Academy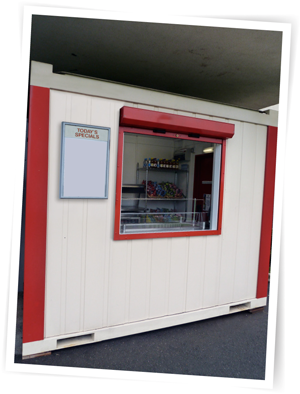 The Food Cube concept was born when PKL was approached by Neil Porter, Operations Director of BAM FM. Neil, who has over 30 years of experience in schools catering, had identified a number of issues surrounding the catering service in schools managed by BAM FM, and approached PKL to help develop a solution. The result was the Food Cube - a permanent portable food kiosk capable of providing both hot and cold meals for pupils.
Says Neil, "I worked closely with the specialists at PKL for over three months to design the bespoke Food Cube and I'm thrilled with the concept we came up with. They were very responsive to the brief, familiar with the market, and willing to look at new and innovative design concepts that meet the needs of schools. That's a strong basis to get something new like this right.
"We piloted the Cube and always hoped to develop it both within our other FM schools, and as a franchise opportunity. It is a very exciting concept, and it has great business potential."
Following a successful trial at Oriel School in Crawley, the first permanent Food Cube was installed at Oasis Academy in Brightstowe, Bristol.
Oasis Academy wanted a solution to ease lunchtime congestion and reduce queuing times for school meals. The Food Cube was an ideal solution to their problem. The Food Cube, located in the school grounds, takes pressure away from the main service counters and dining space in the school by serving mid-morning snacks at break time and lunches. It is not the only benefit the Cube has had.
In the case of Oasis Academy, 30% of the pupils now prefer to use the Cube in the morning and at lunchtime, and this has resulted in an increase in the overall uptake of school meals. The overall school catering sales have increased by 22% since the installation of the Food Cube, representing a significant increase.
"We manage facilities in over 30 schools now. Our experience was that some were struggling to manage the queues. Pupils don't like waiting when they are hungry, and this can have a downside for their behaviour and what they choose to eat. We wanted to find a way to speed up the serving process and give pupils what they wanted with minimum fuss. The Cube also helps disperse some of the demand into a separate area and relives congestion on the main dining facilities. It's also a little bit novel. Children seem to like that."
Neil Porter, BAM FM
"I think it's great that it has completely taken away the congestion in the main dining hall. The students seem to purchase more than before, as they are passing by the location of the Cube and not having to come back inside to purchase their goods."
Lucy Horsman, Kitchen Manager
Feedback from Oasis Academy's pupils found that one factor previously dissuading them from taking school meals was how much queuing can be involved. They also wanted to be served quickly and often preferred to be outside. The idea of a kiosk in the playground with under-cover, bench-style seating was always going to be popular.
"It's very convenient for us to buy our sandwiches especially when we are outside in the summer playing football."
Student
"It's great that I can buy my lunch whilst keeping an eye on the students when on lunchtime duty."
Teacher
"The school meals agenda is often under scrutiny. School design is under pressure. Space is more valuable than ever before. That all suggests that a flexible concept like the Food Cube, that can be piloted in quickly and removed later, has a strong appeal to people managing their catering. When you design, build and run schools, you can sometimes find innovations like this to help you deliver things efficiently. It's a neat little solution."
Neil Porter, BAM FM